Upcoming Schedule
Friday, December 1st @ 6:00pm
12/1 @ 6:00PM
Blues, Soul
Saturday, December 2nd @ 6:00pm
12/2 @ 6:00PM
Christian's voice is fueled with passion and soul. With just an acoustic guitar and his voice, Christian Taylor is great for any private party, business event, wedding, restaurant or bar. Catch him as part of his duo, trio, or full band, and guests are sure to be drawn in immediately, and be thoroughly entertained with every song. Christian currently performs at some of San Diego's best live music spots, including Whiskey Girl, Old City Hall (used to be Florent), Herringbone, Searsucker, Loews Coronado Bay Resort, and many others. Playing some of his favorite covers from past decades to present, every song sounds as if though it were his own, putting as much passion and heart into singing them as if he had written them himself. Christian has performed at major charity fundraisers, local festivals, as well as SXSW in Austin, TX. Bio below. San Diego, CA native musician, and singer songwriter, Christian Taylor grew up surrounded by, and listening to all styles of music. Grandson of "Wipeout" drum legend, Mel Taylor, of surf rock band The Ventures, as well as grandson to the First Lady of Rock N Roll, Mary Kaye, who was the pioneer of the Las Vegas lounge act, you could say music is in his blood. Christian's father Jay Kaye was an accomplished musician, singer, songwriter, and blues guitarist in his own right, finding his audience accross Europe, where Christian found himself as a young child watching a listening to him play. ​ Christian didn't find his voice or musical style until later in life, after playing in all different styles of bands and projects as a young man. Christian experimented with folk, americana, and blues rock for a while, before he found a way to blend it all together with his love for classic soul music. His lyrics are stories filled with love, heartache, and hope. With simple guitar playing, he relies more on his soulful raspy voice, that he pushes as far as he can. The music is a throw back to 50's 60's soul and rock n roll, as well as blues and folk, packed with organs, saxophones, and a female back up singer that compliments Christian's vocals. Their live shows are full of energy, good vibes, and charisma, that continually keep the audiences dancing and entertained.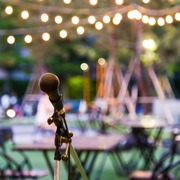 Friday, December 8th @ 6:00pm
12/8 @ 6:00PM
Friday, December 15th @ 6:00pm
12/15 @ 6:00PM
Native to Southern California, Kai has been singing and performing since the age of 6, then playing guitar and singing with his brother since he was 12 years old. The youngest son of a Hawaiian music entertainer Father, and a choir director Mother, Kai was destined to play and compose music from an early age. Fast forward to 2009 when Kai was one of 36 Semi-Finalists on Season 8 of American Idol. Also, Kai was featured on NBC's "The Winner Is", in Summer 201 3 with his brother, where they won $50,000 in a singing competition gameshow, giving Kai yet another boost of exposure and confidence. Kai performs solo with the help of a "loop pedal" which plays back anything recorded live to "make a band" on the spot.
Pop, Dance, Indie
Saturday, December 16th @ 6:00pm
12/16 @ 6:00PM
The Heart is an uplifting Acoustic Duo. Their Genre extends from high energy, feel good Top 40, Classic to Modern Rock, Folk, Indie, Country and Reggae. They've been categorized with bands such as: Ed Sheeran, Mumford & Sons, The Lumineers & Imagine Dragons. They'll keep you smiling, dancing & singing along to their heart moving song renditions. Our Duo consists of Dale Peters who sings Lead Vocals, plays acoustic Guitar using various effect pedals and loops, simulating electric guitar, bass guitar, synthesizer & looped percussion; thus simulating the sound of a full band. Dale is accompanied by Cindy Peters on Lead Vocals as well as harmonies and Hand Percussion, who also doubles as our Audio Engineer. We can provide anything from high energy crowd moving music, such as: Castle on the Hill and Shape of You by Ed Sheeran, Radioactive & It's Time by Imagine Dragons, Mr. Brightside & All These Things I've Done by The Killers, Santeria & Badfish by Sublime, Boys 'Round here by Blake Shelton... to background, easy listening music like: Harvest Moon by Neil Young, Barcelona & Leaving it up to You by George Ezra, Home by Phillip Phillips, Redemption Song by Bob Marley and Skinny Love by Bon Iver. We are accustomed to playing various environments from rowdy, high energy bars, to Hotel lounges, Country Clubs, weddings, corporate events & parties in your home. We can provide a solo, duo or full band, depending on what your event calls for. We are flexible in accommodating your needs to create your perfect event! www.facebook.com/TheHeartBand www.twitter.com/TheHeartBand www.instagram.com/TheHeartBand
Venue Details
Address:
1404 Vacation Rd, San Diego, CA
Phone:
858-581-5960
Website: