Upcoming Schedule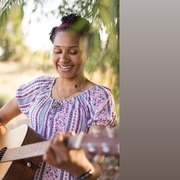 Acoustic, Alternative, Country
Friday, July 7th @ 7:00pm
7/7 @ 7:00PM
Latti Patterson is a singer and guitarist from Bakersfield,Ca. She has been performing on stage since the young age of 12. She established her roots performing as a trio alongside her sister and father, locally known as "The Patterson Family Band". Along side her family she has busked at a local coffee shop for 5 years and opened for Rock & Roll legend, Elvin Bishop 2018 and 2020. Today Latti continues to perform solo in restaurants, bars, and private events playing popular cover songs. Latti draws the audience in with her warm "girl next door" voice and styling. Her ability to take requests and read the room gets the crowd dancing and singing along. Her passion for all music has influenced her broad taste in music. Latti's repertoire includes a wide variety of genres ranging from alternative rock, country, pop, 1960's to todays current hits. Some of her favorite artists are Aretha Franklin, Bread, Buck Owens, The Eagles, CCR, Carole King and Justin Beiber.
Rock, Country
Friday, August 4th @ 7:00pm
8/4 @ 7:00PM
August is a singer/songwriter out of Bakersfield, Ca. He has been performing professionally for 14 years around the world. With a powerful 70's rock and roll voice, he fronts The Aviators, revives the music and performance of live Led Zeppelin with Jason Bonham's guitar player Jimmy Sakurai, travels around the world and fronts the well known Led Zeppelin tribute No Quarter (mentioned in Rolling Stone magazine) out of Seattle Washington, and performs solo acoustic shows all over California. Over the years he has released 4 albums with The Aviators and is currently working on a 5th. Most recently, he has written 2 songs with former long-time bassist of Quiet Riot, Chuck Wright and his solo album "Sheltering Sky". He also wrote a song that is on the latest Quiet Riot album "Hollywood Cowboys" titled "Roll On". He provided back up vocals on that track as well. The song is sung by Season 10 American Idol (top 5 finalist James Durbin. Young's voice can also be heard on the 2019 Volkswagen-Cross commercial that aired in Japan. Young has also released two hard rock songs through The Orchard and Sony music under the name 'Sons of Neptune". The songs are titled "Monster Truckin" and "The Desert Rose (Divided We Fall)". He has plans to release a solo album of acoustic-driven songs in the future.
Venue Details
Address:
3601 Rosedale Hwy, Bakersfield, CA
Phone:
661-324-0814
Website: